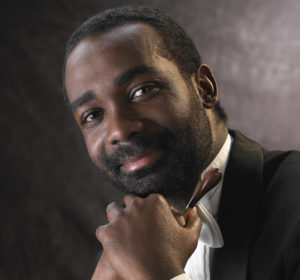 Performer, conductor and composer, Jean R. ("Rudy") Perrault is Director of Orchestras and Professor of Music at the University of Minnesota Duluth (UMD). Born in Port-au-Prince, Haiti, he earned his Master's degree in Music Performance from Temple University, under the tutelage of Helen Kwalwasser. Rudy has conducted numerous ensembles including Sinfonietta de Paris, the Karelia State Conservatory Orchestra(Russia), the Conservatoire de Paris région Boulogne-Billancourt (Paris, France), members of the Vincenzo Bellini Conservatory of Palermo (Sicily, Italy) and the Hacettepe Conservatory Symphony Orchestra (Ankara, Turkey). He traveled to Venezuela where he worked closely with members of "El Sistema" organization (FESNOJIV) conducting master classes and workshops in many of the nuclei surrounding Caracas. He is a frequent panelist on national and international, instrumental and conducting competitions, and has participated in many prestigious music festivals including the International Music Camp, Aspen, Tanglewood, and Chautauqua.
Above, hear the first movement of Perrault's "Exodus" string quartet, dedicated to all people forced out of their homelands. The first two chords represent the Haitian words "Krik-Krak," said before a story begins. Saying them twice emphasizes the story's importance. Then, the instruments imitate a solo voice accompanied by vigorous drumming, as heard in Haitian Vodou ceremonies. Throughout, the piece evokes the separation and loss of being forced to leave one's homeland. This movement is on Crossing Borders Music's Beyond the Headlines: Haiti in Music album.
The "Exodus" String Quartet was premiered by the Borromeo String Quartet. His second string quartet, Zombie: Origin and Evolution, was commissioned by Crossing Borders Music and was recorded on their 2016 album by the same name. Perrault's works have also been performed by members of the Saint Louis Symphony, the Chamber Orchestra of Philadelphia, the New Horizon Symphony Orchestra, the Holy Trinity Philharmonic Orchestra, as well as the New York City Housing Authority Orchestra. His most recent compositions include:"Still Around.." a setting of the poem by the same name by Ruth Bauemler-Schmidt and"Brother Malcolm" – for cello and piano (a fictitious conversation between Malcolm X and Martin Luther King on the inauguration of Barack Obama as 44th President of the United States). Future projects include setting to music three poems of world-renown author Edwidge Danticat, composing a duo for violin and cello (Dialogues for Violin and Cello), a second String Quartet and a ballet (Cérémonie). The past several years he has been editing and orchestrating the piano works of Haitian Classical Composers. Rudy is published by African Music Publishers. His latest radio interview can be heard on the MN Artists website. He recently released the CD String Theory, on which he plays jazz violin. He is a founding member of the Kako Foundation, a non-profit organization dedicated to bringing classical music to at-risk youth in the US and Haiti. Rudy makes his home in Duluth, Minnesota, with his wife Elizabeth and his two children Ella and Alexandre (a.k.a. Popo).
Next: Julio Racine