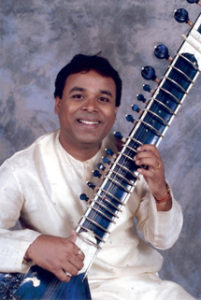 Grammy-nominated sitarist and composer Gaurav Mazumdar is one of the most sought-after and versatile musicians today. Growing up in a musical family, Gaurav first learned the violin before the legendary maestro Pt. Ravi Shankar discovered Gaurav's talent and inspired, taught, and guided him in learning the sitar. His jugalbandis (duets) with some of the best-known musicians of India from both the North-Indian (Hindustani) and South-Indian (Carnatic) traditions are a real treat for the listeners. He has had numerous collaborations with western musicians such as Daniel Hope, Philip Glass and Kenny Werner and composed for and performed with the English Chamber Orchestra. He is the only Indian to have performed at the Vatican.
As a composer, Gaurav's works for ensembles of both Eastern and Western instruments feature traditional North Indian ragas and rhythms merged with innovative counterpoint and raga-based harmonies.
Next: Bahá'ís from Iran
Below, enjoy a Facebook Live session with Gaurav and WFMT's Stephen Raskauskas, courtesy of WFMT.