Crossing Borders Music Core Ensemble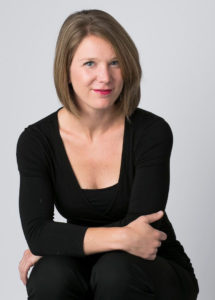 Pianist Marianne Parker is a founding member of the L+M Duo, which performs contemporary music for percussion and piano. Previously, she served as Principal Pianist of the Civic Orchestra of Chicago, where she studied under Chicago Symphony Orchestra Principal Pianist Mary Sauer. Ms. Parker previously studied at the Bösendorfer Piano Institute of Vienna under Krassimera Jordan, and with pianists Wei-Han Su, David Northington, and David Brunell.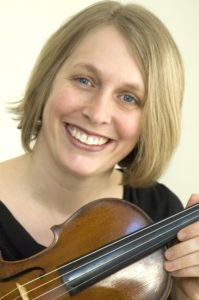 Hailed as a "superb and mature musician with lots of technical mastery" by New Music Connosieur, violinist Jennifer Leckie champions music by living composers in her performances as a soloist and chamber musician, and especially enjoys performing music by composers from under-represented groups. Chicago Classical Review praised her solo interpretation of Salvatore Sciarrino's Cappricci as a "concentrated, acutely colored performance" that "provided impressive advocacy of this challenging music, surmounting the daunting technical hurdles to make a commanding whole" with "an array of nuanced dynamics and bravura." As a founding member of the Grant Street String Quartet, Jennifer performed and recorded world premiere works by Chicago-area composers. She has also worked closely with composers Ornette Colman, Ursula Mamlok, Charles Wuorinen, Lukas Foss, and George Crumb. Dr. Leckie has performed as soloist with the Danville Symphony, the College of DuPage Symphony, and the Elgin Symphony Orchestra, in which she's also a regular member. Jennifer teaches at Lewis University and coaches youth ensembles at Downers Grove High School through a chamber music program she co-founded. Jennifer holds a Doctor of Musical Arts degree from Rutgers University, where she studied with Guarneri Quartet violinist Arnold Steinhardt.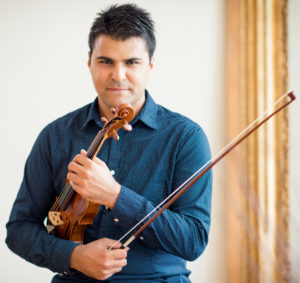 Iranian-born Rasa Mahmoudian is the former concertmaster of the Iran‐Austria Symphony Orchestra in Tehran, a former member of the Ghanbari Mehr String Quartet, and a founding member of the Mahsu Duo, which presents diverse perspectives and ethnic music of all nations along with the "standard repertoire." Rasa received a Masters Degree in Violin Performance at DePaul University in Chicago, where he studied with Olga Kaler. Rasa has performed in the Chicago Summer Opera Music Festival, the Sunflower Music Festival, and Fifth House Ensemble's Fresh Inc Festival. He is also interested in Middle Eastern music, and enjoys spending his time listening to and studying Persian traditional music.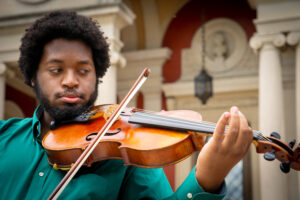 Wilfred Farquharson is a violist from outside of Atlanta, Georgia. He enjoys a multi-faceted performance career as studio, orchestral, and chamber musician. In addition, he also enjoys teaching violists and nurturing their love for music. Wilfred currently serves as a faculty member of the Merit School of Music. In the summer of 2022, Wilfred performed as a fellow with the Grant Park Symphony Orchestra. From 2020-2022, he was a Los Angeles Orchestra Fellow, where he mentored students of the Inner City Youth Orchestra of Los Angeles and performed with the Los Angeles Chamber Orchestra while a graduate student at the University of Southern California. While in LA he also performed live and in studio sessions with the Re-Collective Orchestra, and performed with the Atlanta Symphony Orchestra as a substitute violist. Wilfred attended the Jacobs School of Music at Indiana University as a Premier Young Artist and Hudson and Holland Scholar. During his undergraduate studies at the Jacobs School he studied with Stephen Wyrczynski, Masumi Per Rostad, and was further mentored by Ed Gazouleas, Anne Epperson, and the Pacifica Quartet. Wilfred has also been selected to perform in many masterclasses for world-class artists, such as Pinchas Zukerman, the Dover Quartet, the Ritz Chamber Players, Carol Rodland, Jeffrey Irvine, Kirsten Doctor, and Melia Watres.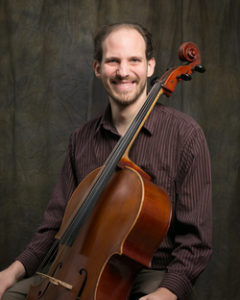 Tom Clowes is a Chicago-area cellist and Founder of Crossing Borders Music. Tom was a student of internationally acclaimed cellist Wendy Warner, former Detroit Symphony Orchestra Principal Cellist Italo Babini, and Lawrence University Conservatory of Music Professor Janet Anthony. As a member of the Civic Orchestra of Chicago, he played under conductors Riccardo Muti, Peter Oundjian, and Cliff Colnot. In the summers, he teaches at the Ambassadors Music Institute in Croix-des-Bouquets, Haiti. Before moving to Chicago, Tom was a member of the Tucson Symphony Orchestra. He teaches at the Chicago West Community Music Center of Garfield Park.
Some of Our Many Collaborators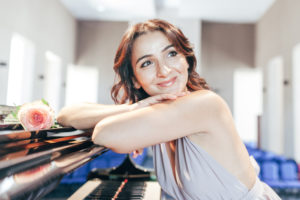 Dr. Tatev Amiryan is an award-winning composer and pianist. A native of Armenia and now based in the US, her works have been performed around the world. Tatev won First Prize in the Abundant Silence Composition Competition, the Armenian Allied Arts Composition Competition, and the Metropolitan Chorale of Kansas City's Composition Contest. As a pianist, Tatev has performed extensively in Armenia, around the US, and in the UK.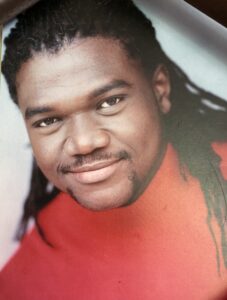 Jean-Paul Coffy traveled the world as the lead musician for the legendary, Grammy-nominated, politically influential folklore band Boukman Eksperyans. Coffy was born in Port-Au-Prince, Haiti and came to live in Chicago in September 2001. Coffy received his degree from the Academy of Music in Haiti and early childhood degree in the Waldorf education system. In Chicago, he and his wife Yakini founded La Grande Famille, an early childhood education program that includes "Music Magic Time."
A native of Lima, Peru possessing a dark, full-bodied lyric tenor voice, Luis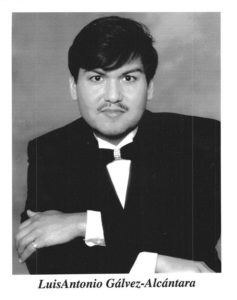 Galvez is one of the most sought after singers in Chicago. He holds a Bachelor of Music from the Chicago Musical College, and a Master and Doctor of Arts in Music Education from Rochville University in Florida. Luis has extensive experience as both artist and teacher. Luis is a founding member and the executive director of the North Shore Opera Hour, where music and passion meet! He is on the faculties of Chicago College of Performing Arts Theatre at Roosevelt University and Sherwood Conservatory of Music.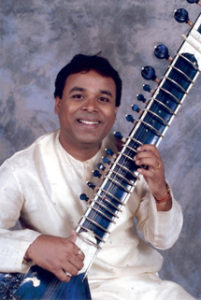 Grammy-nominated sitarist Gaurav Mazumdar is one of the most sought-after and versatile musicians today. Growing up in a musical family, Gaurav first learned the violin beforethe legendary maestro Pt. Ravi Shankar discovered Gaurav's talent and inspired, taught, and guided him in learning the sitar. His jugalbandis (duets) with some of the best-known musicians of India from both the North-Indian (Hindustani) and South-Indian (Carnatic) traditions are a real treat for the listeners. He has had numerous collaborations with western musicians such as Daniel Hope, Philip Glass and Kenny Werner and composed for and performed with the English Chamber Orchestra. He is the only Indian to have performed at the Vatican.
Born in Syria, percussionist Omar al Musfi began his musical training at a very young age. By the time he was ten, he had won several national competitions as an elementary school student.  After graduating from the Syrian Conservatory of Music with a degree in percussion performance, al Musfi started performing extensively with the Syrian National Orchestra. Al Musfi has toured throughout the Middle East and North Africa, Europe, East Asia, and the United States.  He has performed in prestigious venues such as the Kennedy Center, Symphony Center in Chicago, and at the Percussive Arts Society International Convention.  He has collaborated with groups from a broad range of musical backgrounds, including classical, Middle Eastern and Fusion Jazz. Among them are the Chicago Symphony Orchestra, the Pacific Symphony Orchestra, Yo Yo Ma and the Silk Road Project, and contemporary pop artists such as Sting and Shakira, as well as many other groups representing a great diversity of styles.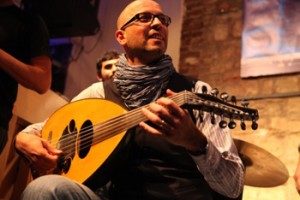 Issam Rafea, oud, is the Winner of the 2010 "Best Composer Award" in Dubai International Film Festival (Muhr Arab) for the film Matar Ayloul, "September Rain."  Rafea was the Chair of the Arabic Music Department at High Institute of Music in Damascus and the principal conductor of Syrian National Orchestra for Arabic Music. Rafea has studied under Fayez Zahr El-Din, Aref Abdallah, and Askar Ali-Akbar. In Syria, Rafea has been an active composer and arranger for TV and theater since the 90s. In addition to solo appearances with the Syrian National Symphony Orchestra, conducted by Solhi Al Wadi, Rafea has performed internationally in France, Spain, Germany, Holland, Italy, Morocco, Iraq, Lebanon, Egypt, Turkey, Kuwait and United States. He's participated in the Mediterranean Festival in Algeria, the World Universal Expo in Seville, Spain, Spiritual Music Festival Marseille, France, The Arabic Music Conferences in Cairo, and Babel Festival in Iraq.