Crossing Borders Music at the Thirsty Ears Street Festival!
August 12, 2017 at 4:00 pm

-

4:45 pm

free and open to the public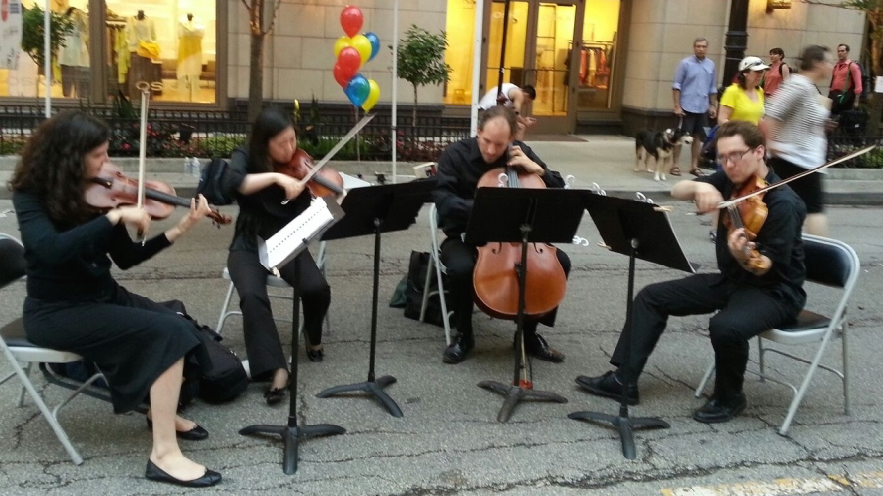 Crossing Borders Music performs at the Thirsty Ear Street Festival, sharing chamber music by composers from Egypt, Colombia, Haiti, the Chickasaw Nation, and more!
More about the Thirsty Ear Festival here: https://www.acmusic.org/thirsty-ears-street-festival/
The program includes the Haitian Vodou-inspired Papa Legba Ouvè Baryè a (Papa Legba Open the Gate) and Papa Legba Femen Baryè a (Papa Legba Close the Gate) by Haitian composer Jean "Rudy" Perrault; Ise Oluwa, inspired by a Yoruba Christian hymn, by Nigerian composer Godwin Sadoh; String Quartet #3 "Donne XIV," inspired by a Muskogee Creek hymn, by Chickasaw composer J. Cruise Berry; excerpts of On the Way of the Cross, a piece honoring the Uganda Martyrs by Justinian Tamusuza; excerpts of the Trio op. 95 by Colombian composer Guillermo Uribe Holguin, excerpts of the Duo for Violin and Cello by Egyptian composer Gamal Abdel-Rahim, written to celebrate his daughter's wedding; the Taiwanese folk song Mending Fishing Nets; and L'odeur du Cafe (The Smell of Coffee) by Haitian composer Sabrina C D Jean Louis.
This performance is partially supported by a CityArts Grant from the City of Chicago Department of Cultural Affairs & Special Events.
This program is partially supported by a grant from the Illinois Arts Council Agency.