Not surprisingly, Africa's most populous country is home to a good many composers. One of the best-known is Fela Sowande, who composed for orchestra, choir, organ, and solo voice.  Samuel Akpabot is also a noted 20th century Nigerian composer who was also a scholar who taught at the University of Nigeria, Nsukka; Michigan State University; and Institute of Cultural Studies, University of Uyo. Also a university professor, Joshua Uzoigwe not only composed for piano but was also a published poet!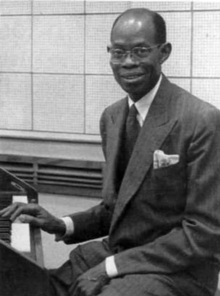 Contemporary Nigerian composers include organist and musicologist Godwin Sadoh;  Godwin's YouTube channel contains a plethora of recordings and many of his works are available online for purchase. Akin Euba is a professor at the University of Pittsburgh's School of Music; he too is both a music scholar and composer.
Edewede Oriwoh is not only a composer herself, but has created a database of African composers and is passionate about supporting and promoting young African composers both online and offline.
Next: Oluchi Edmund